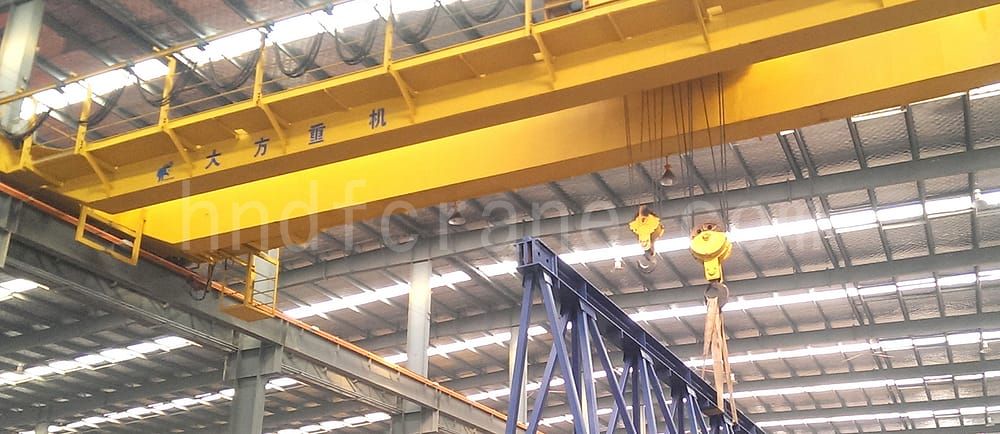 2 Sets MG 30T Engineer Double Girder Gantry Crane Delivered To Pakistan
Key Facts
Country:
Pakistan
Date:
2015-12-07
Qty:
2 sets
Technical Parameter
Lift Capacity: Main Hook 30t/Aux Hook 10t;
Span: 40m
Lift Height: Main Hook 14m/Aux Hook 12.2m
Lift Speed: Main Hook 1 m/min
                        Aux Hook 7 m/min
Travel Speed: Main Hook 1 m/min
                              Aux Hook 7 m/min
Detailed Informaiton
There are 2 sets 30t Double Girder Gantry Crane are delivered to Pakistan at 7th Dec, 2015, totally use 10sets' 40' containder, including 6sets 40' OH, 2sets 40' OT, and 2sets 40' HQ. To be loaded by 40' container, we divide the 43m main girder into 4 parts, and every connection is flexible. This is very convenient for client's reinstallation and usage in future.
Since these 2 sets 30t Double Girder Gantry Crane will be used on concrete bridge girder to assist the girder erection, and the 2sets will work together to lift one piece concrete girder, we equip with wireless remote control. Then the 2 sets MG 30t Double Girder Overhead Crane can be operated synchronously. Besides, the engineer gantry cranes will be used on open plant, therefore we design trussed type, which can ventilate freely. What's more, we also add correction device and rail clamp.
To make client's installation more convenient, we make marks on every connection.
Our Henan Dafang Heavy Machinery Co.,Ltd will try our best to offer the most suitable design for our client. Welcome to connect with us any time if you have need of gantry crane, beam launcher,overhead crane etc!