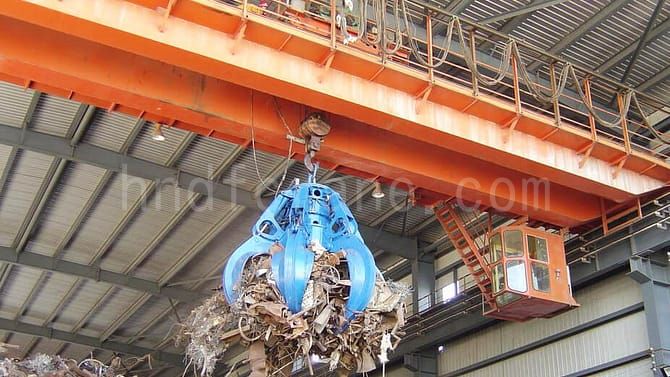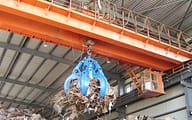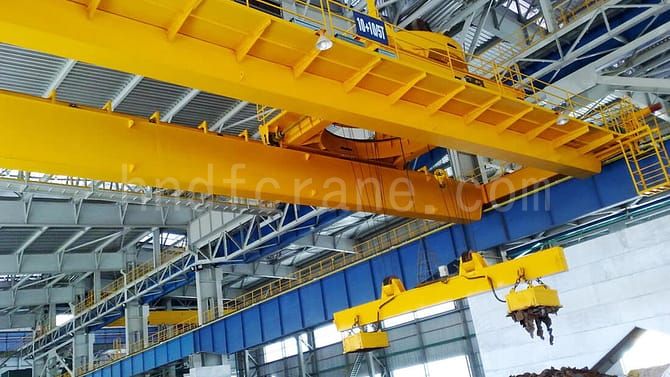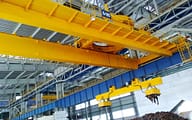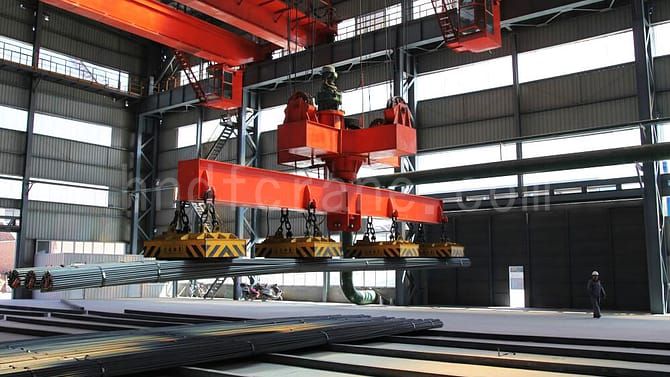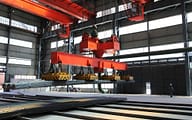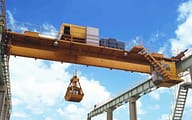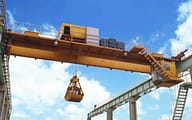 Product Introduction
When lift loose goods, the normal overhead cranes is not convenient, therefore QZ type overhead crane with grab is very important for those situation. It is widely used in loading goods in port, factory, workshop and power plant. It includes remote grabs and mechanical grabs. And it is most suitable for some places where need lift. The work classification is heavy, the group classification of the crane is A6.
The Electromagnetic Overhead Crane equipped with accessible electromagnetic plate, the lifting capacity includes plate's weight and magnetic weight. It is applied in metallurgy factory or outdoor place, where have fixed span and heavy work, to load and transport electromagnetic black metal materials (as steel ingot, merchant steel, big iron). Some stores also use it to handling materials, pieces of iron and scrap iron, scrap steel and so on. The crane is consisted with box shape bridge frame, crane traveling mechanism, trolley, electric equipment and electromagnetic plate. The operation is cabin operating, and have rain-proof equipment when in outside.
Application:
Applied in metallurgy factory or outdoor place, Some stores also use it to handling materials.
Features
Steel structure: Q235B/Q345B carbon structural steel with seamless once forming technology more strong and elegant. Suitable for different operation temperature.
Lifting mechanism: Reducer, drum, motors protection class F class, domestic or World top quality motor brands, such as Jiamusi, Nanjing motor, ABM, etc.
Hook: Finest steel forged hook, long using life.
Wheels: Forging with compact structure, convenient maintenance, high transmission efficiency and long service life.
Travel mechanism: With domestic or world famous crane motor, reducer supplier, such as Nanjing motor, and double brake SEW etc.
Electrics: Yaskawa Schneider or Siemens etc.
Spreader: Electric hydraulic grab, mechanical grab; magnetic for rebars, steel plats, iron block etc.
Electric magnetic can maintain its magnetic force if the electricity is cut off.
Compare Products
Grab Overhead Cranes

QZ Type Double Girder Overhead Crane 

The opening and closing direction of grab includes parallelism and vertical.

The lifting capacity of grab crane included the dead weight of the grab bucket is 5 ton to 25 ton

Mechanical Grab

The lifting mechanism is equipped different grab according to customer's requirements.

Hydraulic Grab

The grab include mechanical grab, hydraulic grab, clamshell grab, and orange grab. Client can choose different type according to practical usage.

Magnetic Overhead Crane

QC Type Double Girder Overhead Crane

Mainly for steel factory or steel material handling

Electric Magnetic

Mainly consists of lifting mechanism, cross traveling mechanism and long traveling mechanism

Lift Beams used together with Electric Magnetic

The lifting mechanism is equipped with magnetic.
Configuration
NO
Item
Brand
1
Trolley Electrical
Schneider Brand
2
Motor(Trolley Lift)
Wuxi hongtai
Reducer(Trolley Lift)
Purui
Brake(Trolley Lift)
Jiaozuo Changjiang
3
Motor(Trolley & Crane Travel)
Boneng Three-In-One
Reducer(Trolley & Crane Travel)
Brake(Trolley & Crane Travel)
4
Inverter
Yaskawa Brand
Client Care
You might be interested in the following questions