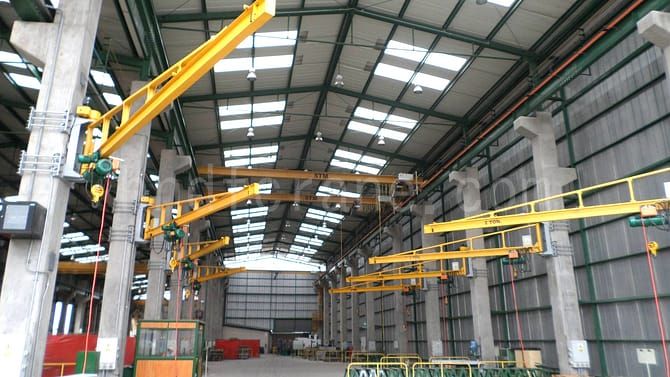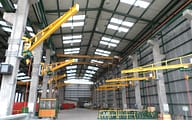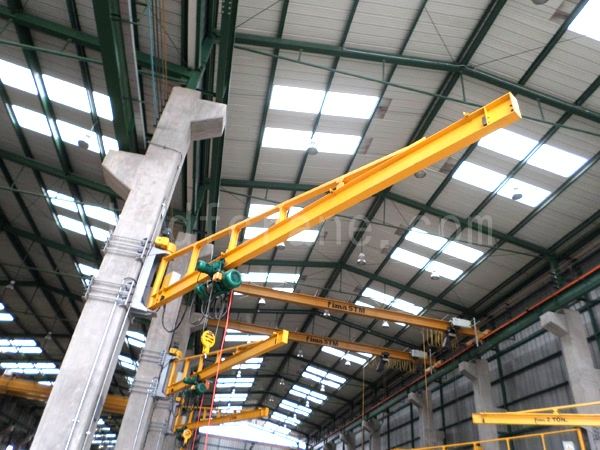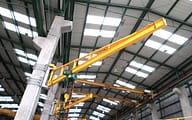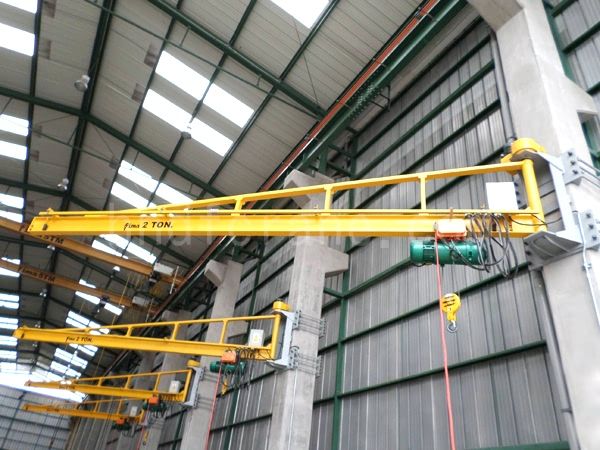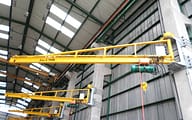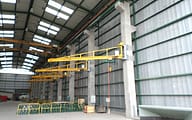 Product Introduction
Dafang Wall Mounted Jib Cranes require no floor space and no special foundations. Low cost method of manipulating loads where lifting space can be limited to between 180 and 270 of rotation provided by a wall or column mounted jib crane and where repetitive lifts are not required. They quickly fold out of the way of large overhead cranes.
Application:
Hoist coverage along walls or columns. Supplement to an overhead crane and monorail. Like workshop, warehouse and so on.
Features
Full cantilever design.
Wall bracket with tie rod supported boom.
Design uses a standard.
Easy operating.
Don't take up the ground space.
Easy maintenance.
More Details
Wall mounted jib cranes utilize existing structures for support which eliminates the need to increase floor obstructions by adding additional columns. Costly foundations are not required.
Capacities are limited by the size of your existing walls or columns. (In some cases we can reinforce existing structures for increased capacity). Lighter loads can be handled with enclosed rail systems while heavier capacities require structural steel beams.
One of the largest disadvantages to the use of wall mounted jib cranes is the high cost of engineering needed to determine if the building structure that they are going to be attached to will support them.
Related Products
| Free Standing Jib Crane | Wall Traveling Jib Crane |
| --- | --- |
| | |
| Free Standing Jib Crane have the simple construction. It is from the column, revolving arm, transmission and electric hoist. It can improve work efficiency, improvement working condition. | Wall-Traveling Jib Cranes provide long lateral movement of materials without taking up floor space or interfering with large overhead cranes. Wall-traveling jibs increase overall plant productivity by quickly handling smaller lifts. |
Parameter Table
Model
Lift Capacity(t)
L(mm)
R1(mm)
R(mm)
H(mm)
BXS0.25
0.25
3200
250
3000
800
BXS0.5
0.5
BXD1
1
3400
300
950 
BXD2
2
3500
450
3000
1150
BXD3
3
4500
500
4000
1350
BXD5
5
4700
550
4000
1500
Client Care
You might be interested in the following questions
Whether you can offer customized Free Standing Jib Crane?

Yep, of course, we are manufacturer, and we have our own engineer group. They can work out customized design according to your requirement. The most important thing is that you tell all the needed information.

What's information shall we offer to get precise quotation & best design?

Max lifting capacity: __ton?
Arm length/working radius needed: __m?
Lifting height (hook center to ground): __m?  
Rotation angle: __degree.  
Power supply: 380V/50HZ/3Ph is ok?
Working condition: Lift what? Where will the jib crane be used: inside or outside?
Any special requirement on lifting speed?
Detailed dimension of column on which the crane is to be mounted.

What's the advantage of your product?

1. Products for the outer packing all adopt code printer to print the product code and the company name, every batch of products will be found by number.

2. All spare parts will be oiling before delivery.