When it comes to lifting heavy loads in manufacturing, construction, or other industrial settings, overhead cranes are the go-to equipment. Heavy-duty overhead cranes are designed for applications that require lifting and moving extremely heavy loads with precision and safety. In this article, we will discuss the benefits of using heavy-duty overhead cranes, their features, and how they can improve your operations.
What Are Heavy Duty Overhead Cranes?
Heavy-duty overhead cranes are powerful machines that are designed to handle extremely heavy loads. They are commonly used in industries such as steel mills, shipyards, and aerospace manufacturing where large and heavy components need to be lifted and maneuvered. These cranes typically have a load capacity of up to 100 tons or more, depending on the design and configuration.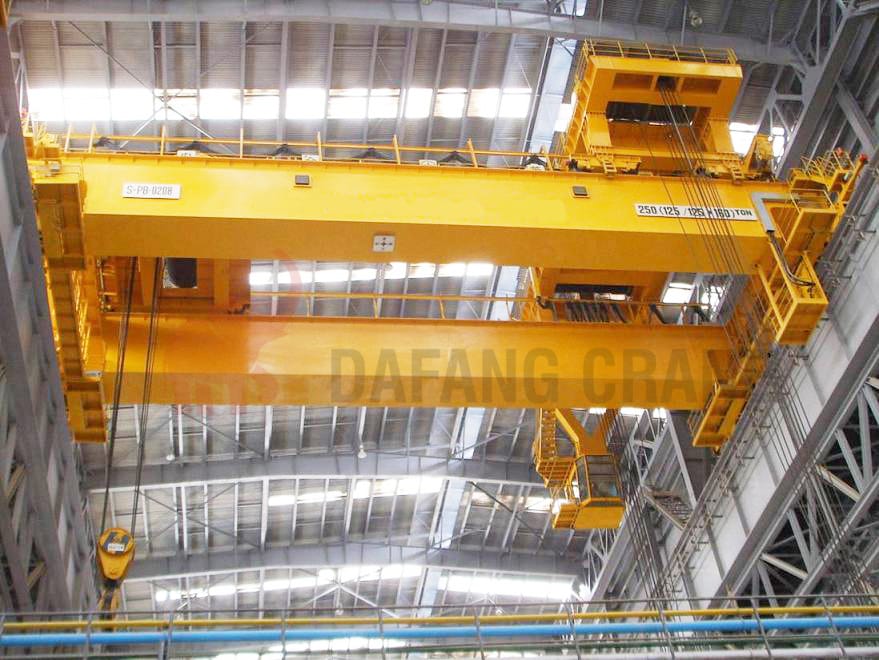 Benefits Of Heavy-Duty Overhead Cranes
Increased Safety: One of the most significant benefits of heavy-duty EOT cranes is increased safety. When working with heavy loads, there is always a risk of injury or accidents, but overhead cranes can help to mitigate these risks. With their powerful lifting capabilities, cranes can safely move heavy objects without requiring workers to do so manually, reducing the risk of strains, sprains, and other injuries. Additionally, bridge cranes can be equipped with safety features such as limit switches and overload protection systems to further enhance safety.
Improved Efficiency: Another key benefit of heavy-duty overhead cranes is improved efficiency. Compared to manual labour or traditional forklifts, cranes can move heavier loads more quickly and with greater precision. This means that tasks such as loading and unloading cargo or moving heavy machinery components can be completed more efficiently, reducing downtime and increasing productivity. Additionally, the use of overhead cranes can help to streamline workflows by allowing multiple tasks to be performed simultaneously, further enhancing overall efficiency.
Versatility: Heavy-duty EOT cranes are versatile machines that can be customized to fit your specific needs. They can be designed with different hoist options, including magnet cranes for handling metal materials, and grab cranes for handling bulk materials. This versatility makes overhead cranes a valuable asset in a wide range of industries, from manufacturing and construction to shipping and logistics.
Features Of Heavy Duty Overhead Cranes
Double Girder
One of the most important features of heavy-duty bridge cranes is their double girder design. This means that the crane has two parallel beams that support the hoisting mechanism, providing greater stability and strength than a single girder crane. Double girder cranes are capable of handling heavier loads and spanning longer distances than their single girder counterparts, making them ideal for industrial applications where large, bulky items need to be moved.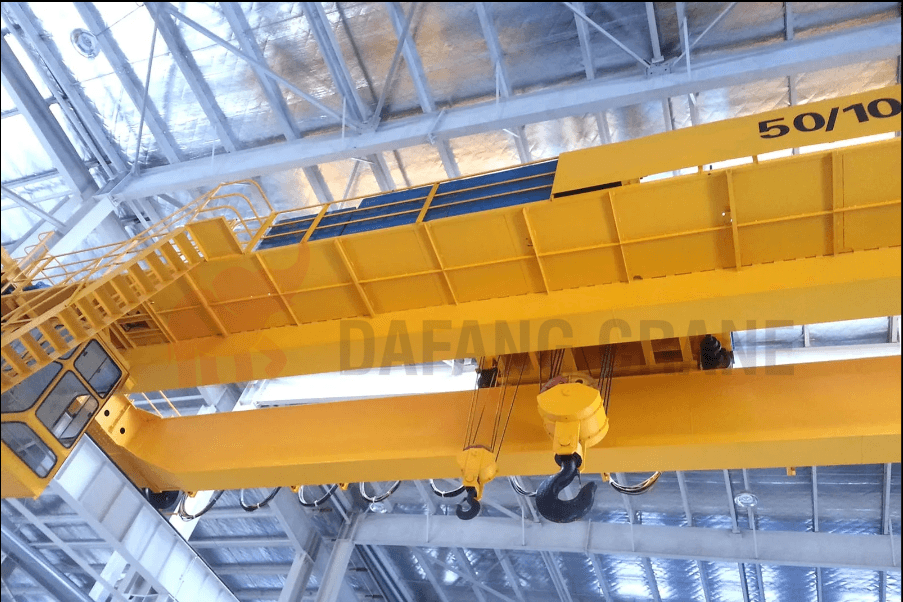 Electric or Hydraulic Hoists
Another critical feature of heavy-duty overhead cranes is their hoisting mechanism. Most cranes use either electric or hydraulic hoists, depending on the specific requirements of the job. Electric hoists are powered by electricity and offer precise control over the lifting process, while hydraulic hoists use pressurized fluid to lift and move objects quickly and efficiently.
Electric hoists are generally faster and more efficient than hydraulic hoists, but they may not be able to handle heavy loads. Hydraulic hoists are slower but can handle much heavier loads.
Anti-Sway Systems
Heavy-duty EOT cranes are also equipped with advanced anti-sway systems designed to prevent loads from swinging side-to-side during transit. These systems use sensors and software to monitor load movement and adjust the crane's speed and direction accordingly, ensuring safe and efficient transport of heavy loads.
Applications Of Heavy Duty Overhead Cranes
Steel Mills
The first major application of Heavy-Duty Overhead Cranes is in the steel industry. The cranes can use to move heavy steel plates, coils, and beams throughout the mills. The cranes' ability to reach high elevations and handle tremendous weight makes them an essential tool for steel production. The bridge cranes also have precise control systems that allow for accurate movement of materials in tight spaces, ensuring maximum efficiency.
Shipbuilding
Heavy-Duty bridge cranes are also widely utilized in the shipbuilding industry. These cranes are used to lift and move heavy ship components such as engine parts, propellers, and hull sections. The cranes' versatility allows them to work in confined and difficult-to-reach areas, making them ideal for assembling large ships. The cranes used in shipbuilding are often equipped with advanced safety features such as anti-sway technology to ensure safe and efficient operation.
Shipping Ports
Shipping ports are another area where heavy-duty overhead cranes find extensive use. These cranes are used to load and unload cargo ships quickly and efficiently. Heavy-duty EOT cranes can handle large containers and heavy loads with ease, making them ideal for use in busy ports. By using these cranes, shipping companies can optimize their operations and minimize turnaround times, allowing for increased profits.
Manufacturing Industry
In the manufacturing industry, heavy-duty overhead cranes play a critical role in improving efficiency and productivity. They are used to move raw materials, finished products, and equipment around the factory floor quickly and safely. Heavy duty overhead cranes can handle loads that would be difficult, if not impossible, for human workers to move, significantly reducing production time while also improving worker safety. These cranes are also used in maintenance tasks such as lifting heavy machinery for repairs or replacements.
Mining Industry
The mining industry relies heavily on heavy duty EOT cranes due to the massive amount of material that needs to be moved daily. Overhead cranes are particularly useful in open pit mines where they can transport large amounts of raw materials from one location to another with ease. They are also used in underground mines where they can lift heavy loads and support equipment during installation or maintenance activities. The use of EOT cranes has made mining operations safer and more efficient by reducing manual labor and lowering the risk of accidents.
Heavy-duty overhead cranes are essential equipment for industries that require lifting and moving heavy loads with precision and safety. With their increased safety features, improved efficiency, and versatility, they can significantly improve your operations. By choosing the right configuration and customization options, you can take advantage of the many benefits that heavy-duty bridge cranes have to offer.