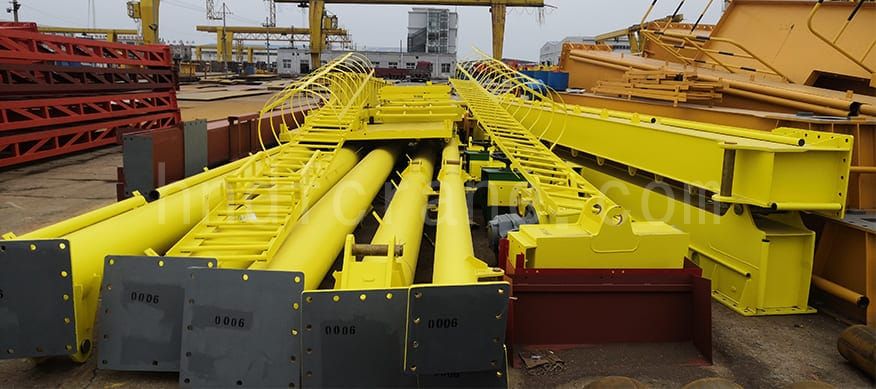 One set of 70t-S19m-H12m Double Girder Truss Gantry Crane to Qatar
Key Facts
Country:
Qatar
Date:
2022-04-18
Qty:
1 Set
Products:
1 Sets of 70t-S19m-H12m Double Girder Truss Gantry Crane.
Detailed Specifications:
Capacity: 70 ton
Span: 19 meter
Lifting Height: 12 meter
Lifting Speed: 15-1.5 m/min
Trolley traversing speed: 0.9-9 m/min
Full load traveling speed: 1-10m/min
Crane running length: 180m
We got the inquiry of this single girder gantry crane from one fromer client of ours. The new 70t truss gantry crane project will be usd in Qatar. Client share the crane work condition, will lift concrete bridge beam. As this working condition, We ever supply gantry crane for our clients, The truss gantry crane is most suitable- huge tons but don't work continuously. And it's easy to disassembly and transportation. Suitable for bridge construction projects.
After confirm the 70t truss gantry crane design, We talked the configuration and accessories with client. First client told us the crane need to travel 100-200m each time. This is the most efficient way to work. After their talk, they confirmed the crane running length 180m. We equipped with the crane 180m long rail, and with 100m center cable power supply. In this progress, client require to use SEW or ABM motor, General Domestic is enough, their local prefer European type, and can accept the cost increased. So we confirm the SEW motor for our client.
We got the project, And start to produce the 70t truss gantry crane for our Qatar client. The construction period of this gantry crane was very tight, our workers did not dare to slack off, and finally completed the 70t truss gantry crane on schedule. It be trans port on Apr. 11th, 2022. Even if the port Covid condition is serious. The crane be send back one time. We contact driver and freight forwarder actively. Solving the problem on the transport.
The truss gantry crane is suitable for big tons and not work continuously condition, easy to disassembly and transportation. If you need a gantry crane with this condition, please feel free to let us know. We provide customized service including appearance like color, logo and so on. Please inform us:
Lifting capacity
Span
Lifting height
Whether you need overhang
How long will the gantry crane will travel