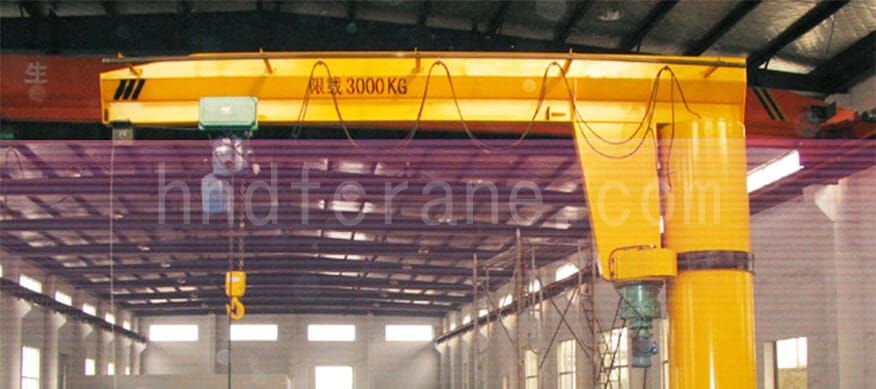 Free standing jib crane is the most widely used lifting equipment in today's production, what are the advantages of fixed-pillar jib crane, it is highly reliable, suitable for short-distance frequent lifting tasks, flexible operation, greatly improving efficiency.
The column type jib crane has many specifications and a complete series, with a lifting capacity of 250kg-5000kg, a jib length of up to 6m and a rotation angle of 360 degrees. Adopting European-style processing technology, it has simple structure, convenient operation, flexible rotation and large operating range, and is suitable for use in fixed places such as docks, warehouses and workshops.
Composition of column jib crane: It consists of column structure, jib structure, rotating mechanism, power distribution system and hoisting mechanism.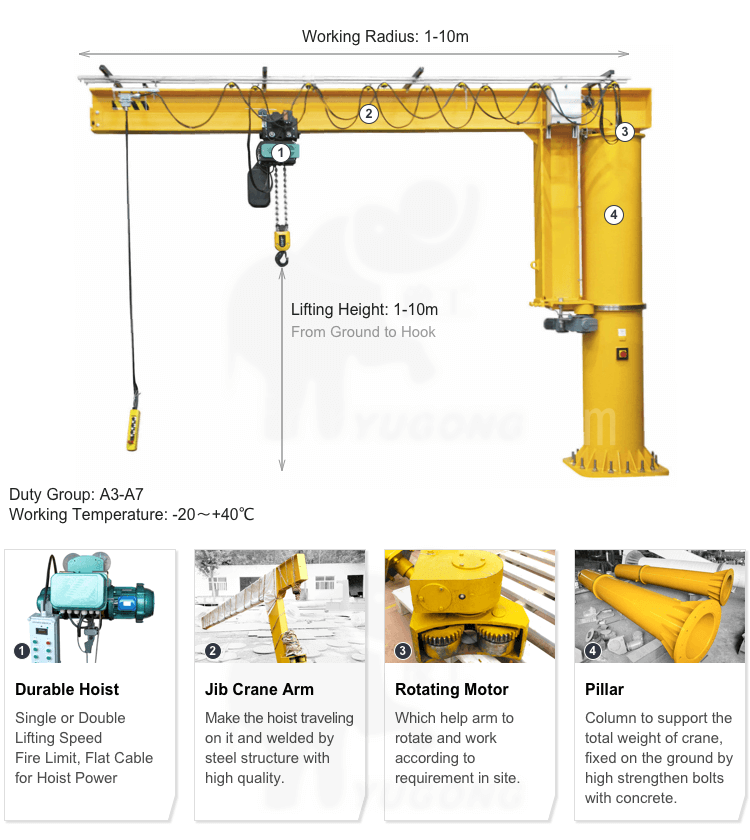 The column type jib crane is composed of five parts
1. the column is the cantilever crane's rotating arm support fixed, its upper and lower support by bearing radial force and axial force of the single-row tapered roller bearing composition.
2. The rotating arm is welded by the combination of I-beam and support, whose function is to realize the horizontal movement of electric or manual trolley and the up and down lifting action of electric hoist, and to rotate around the column.
3. The supporting arm plays a supporting role for the rotating arm and increases the bending resistance and strength of the rotating arm. It drives the roller through the reducer to realize the electric slewing of the jib crane.
4. The electric chain hoist lifts heavy objects and moves horizontally along the rotating arm, and its structural features are detailed in the instruction manual of the electric chain hoist.
5. the electrical part of the C-track plus flat cable power supply system, low-voltage inter-controlled safety voltage for operation, by the hand electric door button to achieve control, respectively, to control the electric chain hoist fast up, fast down, slow up, slow down, as well as the hoist running trolley walking and cantilever crane left and right rotation, the collector ring in the column to provide power supply when the cantilever arbitrary rotation.